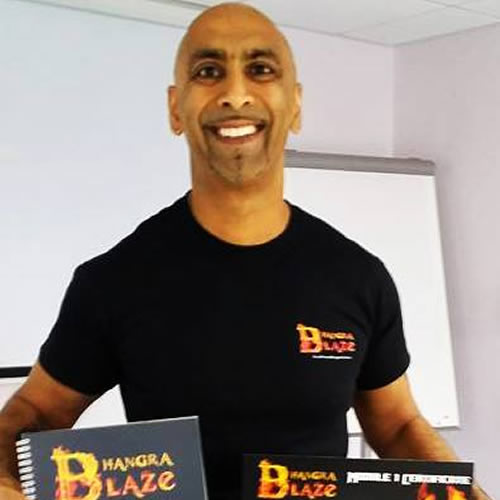 Name : Kirit Thakore
Email : kirit@bhangrablaze.com
Phone : 07727687773
Latest news from Kirit
Come along and join me for a workout thats not only fun but effective. Some great music with lots of fantastic friendly people :)
Kirit Thakore is qualified for the following
BhangraBlaze - BhangraBlaze is the ultimate bhangra workout.
AbsBlaze - A complete range of exercises to work and tone the whole abdominal area...
BandsBlaze - A full body workout using resistant bands. Blaze away the calories and tone your body
BhangraBeats - The ultimate drumstick workout to incredible Bhangra music
BhangraBlaze Kids - A fun Bhangra class for youngsters from 4 to 16.
BhangraReggae - Bhangra and Reggae have very similar beats and here we have an incredible workout fusing the two.
BhangraSanity - Unique routines mixing powerful Bhangra moves and Insanity type exercises
BhangraSanity 2 - The Party Workout - Fusing simple Bhangra moves with incredible party songs and non Bhangra exercises
Big B Workout - A workout to celebrate Amitabh Bachchan's 50 years in the Bollywood film industry
BollyBlaze - BollyBlaze is the ultimate Bolly workout fusing incredible Bolly music with calorie blazing routines
BoxerBlaze - BoxerBlaze is a cardio class using basic boxing techniques. Ideal for toning arms and working the stomach.
Diljit Dosanjh Workout - Workout to the incredible music of Diljit Dosanjh.... 2 massive routines to Paag Wala and 5 Taara...
ENERGISER 45ER - A 45 minute incredible non stop cardio and resistance to fantastic motivating music...
GarbaBlaze - GarbaBlaze fuses the amazing Garba moves from Gujarat in India. An super calorie burning workout
GarbaBlaze Chogada Tara Workout - An amazing calorie blazing Garba workout featuring hits from the massive Bolly film LoveYatri..
InsaneBlaze - An insane workout to make you dig deeper and blaze away the calories.
JhoomarBlaze - A full flowing Bhangra calorie blazer
KungFuBlaze - An incredible series of martial arts exercises to combat those calories in a fun and dynamic way
Leambadgini Workout - An incredible and fun workout finishing with a great routine to the incredible Leambadgini track
MegaTrim - A blend of full compound weights and intense abs creates a workout to blaze those calories right off
Military - A mixture of exercises from various armed forces around the world to make a soldier out of you...
Old Skool BhangraBlaze - Blaze away the calories to our old skool workout with incredible tracks that will take you back
Sexy Guns Workout - An incredible workout designed to tone and trim your arms...
UWBT - Ultimate weights for body transformation is an amazing weights routine designed to strip body fat and build lean toned muscle.

Class Timetable for Kirit Thakore