BHANGRA AWAY ALL YOUR TROUBLES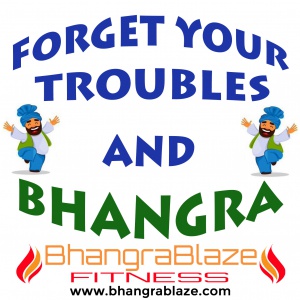 It doesn't matter what your worries or troubles are, any type of dancing will soon start to make them fade away. Bhangra has upbeat music and the high energy ballistic moves soon get the happy feelings going. The more you do the happier you get.
When we Bhangra we release endorphins which are your body's "feel-good" chemicals. Endorphins in your blood increase in response to dancing away to your favourite Bhangra track and it's long been suggested that these endorphins help people feel good after their workouts.
BhangraBlaze workouts have an undeniable effect on your mood, with anxiety reduction key among them.
Exercise is one of the most effective prevention and treatment strategies for depression. One study found that 30-minute aerobic workouts, like a BhangraBlaze workout, done three to five times a week cut depressive symptoms by 50 percent in young adults. Another study on undergraduate students found those who were more physically active overall had higher pleasant-activated feelings than people who were less physically active. Pleasant-activated feelings include excitement and enthusiasm, which some might say would be the opposite of depression.
Bhangra also has these added health benefits:



It strengthens your heart.




It increases energy levels.




It lowers blood pressure.




It improves muscle tone and strength.




It strengthens and builds bones.




It helps reduce body fat.




It makes you look fit and healthy.



Check out many of out workouts that we offer classes to make you happy all over the country. If you can't get to a class, then why not workout at home with our on line home workouts.