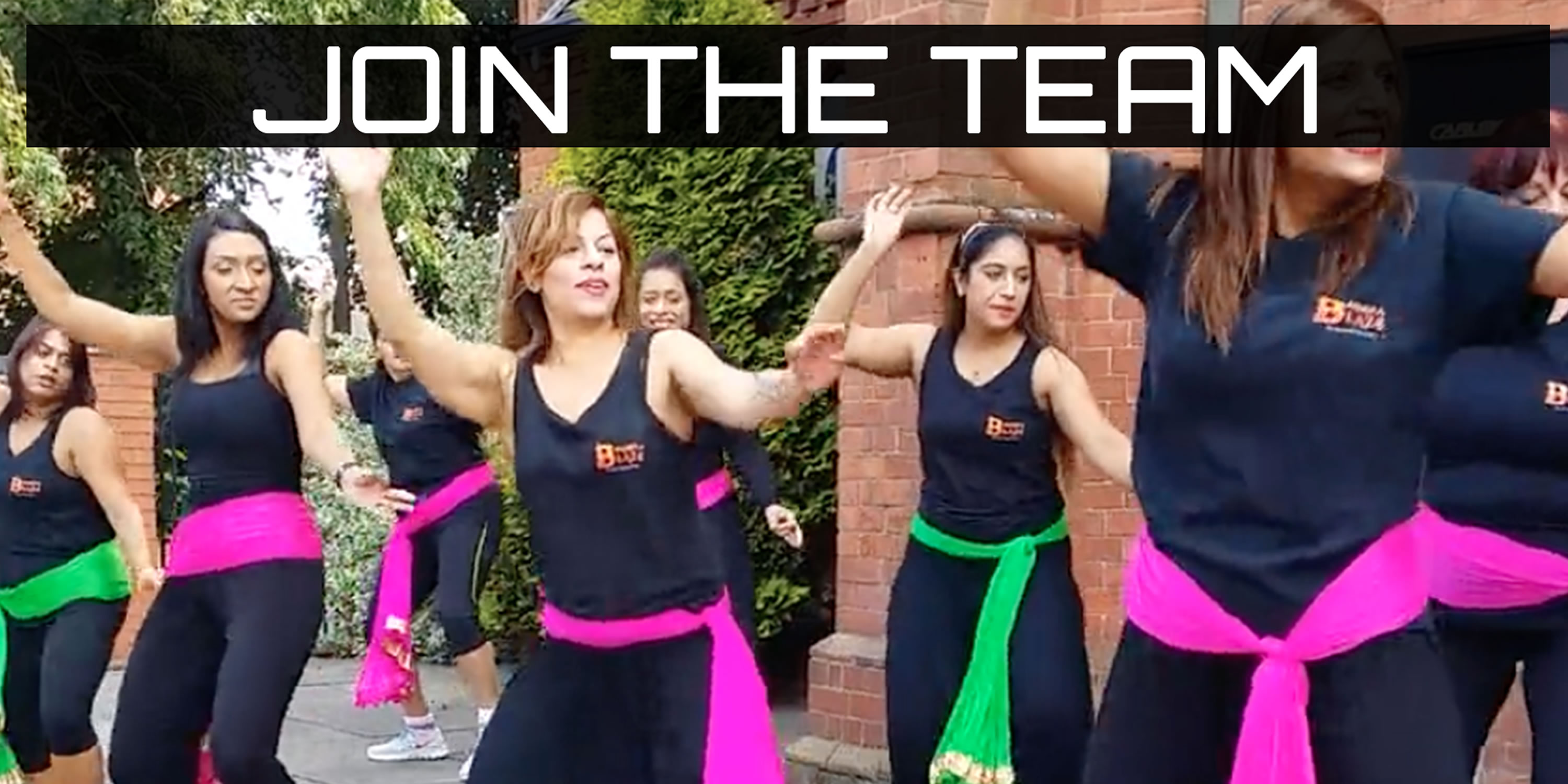 BhangraBlaze is an incredible Bhangra fitness workout based on a powerful dance routine originating from the Punjab region of India. It is not a dance class but an amazing energising fitness routine, which has seen the most fantastic results and response. People are requesting BhangraBlaze classes all over the country and because of this demand we have a BhangraBlaze instructor program with a proven turnkey support system to help make it very successful.
We have also put together instructor training programs based on 2 other incredible dances from India, Bollywood and Garba.
BollyBlaze is a Bolly fitness workout is based on the dances of the biggest film industry in the world Bollywood.
GarbaBlaze is an incredible workout based on a folk dance celebrated in the Gujarat region of India.
As an instructor you will get

Support and help to make your BhangraBlaze journey happy and successful

Unique easy to teach choreographed routines that your members will love and tell everyone about

Advice on how to grow and build your classes from other successful instructors

Your very own website promoting your classes as well as other classes you may hold

Your unique class links and information on the BhangraBlaze directory

A new choreographed routine that can be purchased every 2 months

Full days training followed by a full days refresher course
Become a BhangraBlaze Instructor
BhangraBlaze has unique fitness workouts based around the Indian dances of Bhangra, Bolly and Garba. These workouts provide overall toning and body conditioning and build up endurance, stamina and balance. It is as much fun as it is rigorous. Participants easily burn over 600 calories per workout, in some cases well over 800! Classes are easy to follow and can be modified making it accessible to people of all ages and fitness levels.
Come join our team, a group of dedicated instructors who share a passion for fitness, music, and dance!
We are looking for motivated and enthusiastic individuals who can command a room full of people with their positive energy. Teaching experience and group fitness certification is a plus but not necessary. We strive to maintain the quality and integrity of our program through our BhangraBlaze instructors; therefore, BhangraBlaze trainees should expect the days training to not only be intense and challenging but also extremely gratifying and fulfilling!
Next Available Courses:
Instructor training course dates to be confirmed
BhangraBlaze trainees can expect:
BhangraBlaze Video Tutorials
BhangraBlaze T-shirt
BhangraBlaze Official Instructor Certificate
BhangraBlaze Personalised Website
Free follow up refresher course
Upon successful completion, you will be able to teach The BhangraBlaze workout
The BhangraBlaze Instructor course is £99.
There will be a monthly license fee of £10.This will give you a personal website giving information of your BhangraBlaze classes. Instructors may add other non BhangraBlaze classes that they run to this to give their full itinerary if they wish. You will also be listed on the main BhangraBlaze site which will be constantly marketed to help you increase your attendances. Any tips and advice will be shared to help you grow your business. I am now starting to get requests from all over the country to do demos and shows. Every week, we get enquiries asking about class availability as well as enquiries for events. These will also be passed to relevant trainers.
Please read the terms & conditions below and make payment. You will then be asked to complete a short registration form.
Terms and conditions
All Instructors will be required to complete a Physical Activity Readiness Questionnaire (PAR-Q) on the training day. You can view the form here
Once you have completed your module training to a satisfactory standard you will be able to take the BhangraBlaze name and routine to market. If for any reason you are not totally ready then we will continue to help and support you get to the standard required.
BhangraBlaze will endeavour to help you build your business through various means of marketing and training but ultimately the more that you practice and dedicate to it the greater the rewards.
The monthly license fee will mean that your details as a qualified BhangraBlaze instructor will remain on the BhangraBlaze site . This is where the majority of people will look for classes. You will also get your personal website to actively market yourself.
No part of the BhangraBlaze logo or images to be changed.
Only approved marketing materials to be displayed. If you have a suggestion for new material then please send to BhangraBlaze for approval.
No other routines and music other than those taught can be advertised or taught as BhangraBlaze workouts.
Further modules offering a variety of routines will be available to enhance your skills. Some of these maybe on line and some will require you to travel to specific locations. Costs for additional training will vary. Some bonus routines will be free.
BhangraBlaze will endeavour to help and support you build your business but cannot guarantee results. We will advise on types of venue, approximate hall rental charges, insurances, music systems etc but again these are advisory as you will be a self-employed Bhangra fitness instructor.
The BhangraBlaze certification alongside any insurance, DBS documents etc will allow you to teach at any venue. We will advise that additional certification can be helpful.