DEVELOP THE CRAZY TRAIT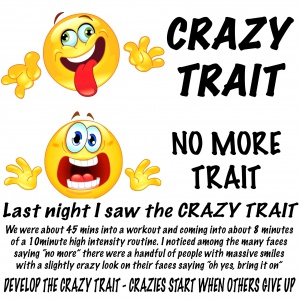 Last night in our Old Skool BhangraBlaze workout I noticed something that made me realise that being a little crazy is a great thing.
We were about 45 minutes into our workout and about 8 minutes into a 10 minute high intensity routine and as expected a lot of the faces were saying "no more" "how much longer" "I can't go on" and all the other things that you could expect when you are tired and think you have given it your all.
Among the group though, were a handful of faces saying something totally different. They had this smiley, almost crazy look on their faces saying "YES" "here we go" "come on" "time to pump it up" and all the other possible statements of a winner. As I pushed the intensity more these "crazies" upped their game even more. Yes they were tired, yes it was easy to give up, but those thoughts did not even enter their minds.
The great Mohammed Ali had a saying which I interpret in the following way.
My training does not start until I think I need to stop... that's when my true training really starts... that's when I start to live
I know true character is revealed in the choices we make and how our minds and bodies respond under pressure - the greater the pressure, the deeper the revelation, the truer the choice to the character's essential nature.
In this instance I am referring to exercise. I get so many people telling me that they can do this or that. That they want to be pushed because they thrive under pressure. That they will do anything to achieve their goals. That they will get up at the crack of dawn. That they will stop eating the bad stuff. That they will put their health first. Then that pressure hits and it's all over... "I can't do any more" "I just could not resist that Jaffa cake" "I was too tired to get up" "Something else came up" etc etc
Giving up is a habit... just like not giving up is a habit also... be crazy and don't give up :)
Written by BhangraBlaze founder Kirit Thakore