Endorphins make you happy...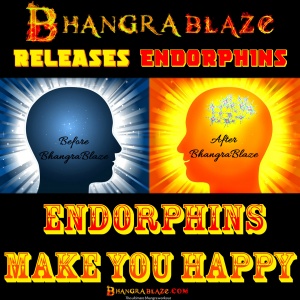 The best time to exercise is when you don't feel like it.... it's easy when you feel like doing it.... but I guarantee that if you're feeling tired, if you're feeling down, if you're stressed or if for any reason you just don't feel like going then a good workout will change your day... and I also GUARANTEE that if you don't go then you will not feel any better.
Now if the class you are going to plays amazing Bhangra music with workouts that flow and challenge you and you are surrounded by like minded people who are all happy and motivated then it's even better.
Endorphins are released when you stress your body and added to this the BhangraBlaze atmosphere all make you feel better.