On Line Workouts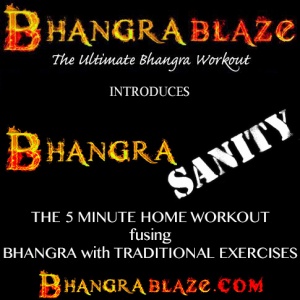 If you cannot get to a BhangraBlaze - "the ultimate Bhangra workout" class, then you can now workout at home.
Whether it's a 5 minute quick blast or a proper 20 minute daily workout then we have it all. We already have a number of 20 minute workouts which were recorded for BIG CENTRE TV, a Midlands based TV channel. These were part of the "Get Up And Go" fitness series.
We taking basic but powerful Bhangra moves, add upbeat Bhangra music to create fabulous calorie blazing fun workouts. There are even home workouts to Garba and also one using drumsticks. Just follow the TV screen.
Our latest edition is a series of quick 5 minute workouts to suit the tight schedules that many of us have today. Using the ideas behind HIIT (High Interval Intensity Training), Tabata and the world famous Insanity workouts we have created BhangraSanity. Using specific music that fuses Bhangra with non Bhangra tracks and then add short bursts of powerful Bhangra moves and traditional exercises, we have a workout that will suit all. Fun and effective. Start every day or every workout with BhangraSanity. To see a full list of all our on line home workouts please go to